This fundraising campaign is now closed. We are grateful for every generous donor who contributed toward this matching gift.
Earthquakes Rock SW Japan: Asian Access Provides Relief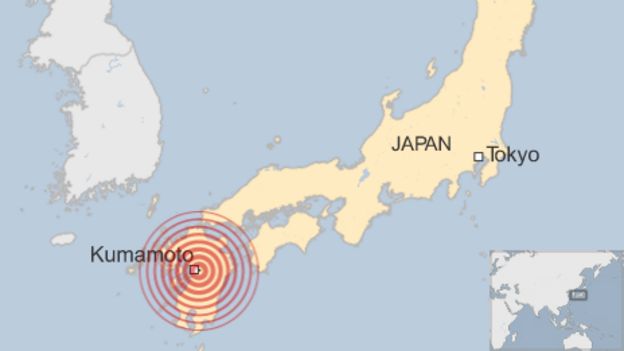 Japan was shaken once again with two devastating earthquakes in Kyushu, Japan:
More than 250,000 people are homeless
At least 41 have died
And dozens more are feared trapped under the rubble
At least 2000 people were treated for injuries, 200 are in serious condition
It's a race against time to try to rescue them says Prime Minister Abe. See the latest BBC report here: Japan earthquake: Thousands remain without vital services
Asian Access Disaster Relief Philosophy
In line with Asian Access philosophy of coming alongside local partners, we received a $100,000 giving challenge grant to bring hope and healing in the midst of the disaster.
"Our principles of coming along side of churches to ministered to the communities affected by the earthquake would be the same as the Northeast triple disasters. For example, one church in the evacuation zone with 600 people never received food/water yet since yesterday. The pastor is asking us to bring food/water. We would like to help the pastor/church to help the community instead of "WE" help the community."
— Takeshi Takazawa, National Director Asian Access/Japan
Pray for the people of Japan and especially the survivors. May the rescue workers find them quickly!

Will you help us?
Give to help churches come alongside and bring the healing touch of Christ in the midst of the pain
Help us match this $100k challenge to bring aid to the nation
How to Give toward Asian Access' Relief Work
Support churches who are doing relief work. A2 is distributing funds raised through local churches in Japan for use where it's needed most. To give online, click the red "Give Now!" button (US$) below or click here...
...or send your check to Asian Access, PO Box 3307, Cerritos, CA 90703.
We are grateful for your support and ask you to join us as we seek to serve through local communities together!
With Christ,

Joe Handley, President
More Information